REACH, short for Registration, Evaluation, Authorization, and Restriction of Chemicals, is a European Union regulation that aims to protect both human health and the environment from potential risks caused by chemicals. This regulation has a particular focus on chemicals used in textiles and other consumer goods.
When it comes to REACH certification, fabrics must go through rigorous testing to make sure they're free of any substances on the REACH Candidate List of Substances of Very High Concern (SVHCs). This list contains chemicals that could be harmful to people or the environment, and are under evaluation for possible inclusion in the Authorization List of Substances subject to Authorization.
Accreditation & Compliance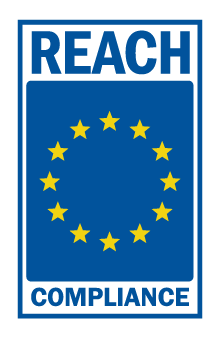 It's up to fabric manufacturers and importers to ensure their products meet REACH standards. They're responsible for identifying and documenting the presence of any SVHCs in their products and sharing that information with customers when asked. Additionally, they need to take the right steps to limit users' exposure to these substances when necessary.
Keep in mind, there's no specific organization in charge of accrediting or certifying textile fabrics for REACH compliance. Instead, it's the responsibility of the company producing or importing the textiles to make sure they follow the rules. Industry insiders recommend that textile manufacturers document their compliance, both internally and upon request. Some textile industry associations might also offer recommendations or best practice guidelines to help companies stay in line with regulations.

Consumer Impact
For everyday shoppers, REACH certification means that the textiles they buy are considered safe and don't contain any harmful chemicals flagged by the European Union. However, it's important to remember that just because a product doesn't have REACH certification, it doesn't automatically mean it's dangerous. It might simply not have been tested or certified yet.

Global Impact
While REACH is specific to the EU, similar regulations and textile safety standards may exist in other countries and regions. In fact, some textile manufacturers and retail brands could even have their own safety standards that go above and beyond legal requirements, ensuring consumer safety.

Conclusion
In a nutshell, REACH is an EU regulation designed to make sure textiles and other consumer goods are free from hazardous chemicals that could harm human health or the environment. By complying with REACH, fabric manufacturers and importers can give consumers peace of mind that their products are safe to use.