Enhancing Comfort with the Lux Feature for Nest Function Frames
When it comes to the world of functional, multi-use furniture, finding the right balance between comfort, aesthetic appeal, and utility can be a challenging task. However, the Lux Feature for Nest Function frames is the game changer that combines these factors to provide an unprecedented level of comfort and utility.

The Lux Feature Explained
Exclusively available for Made to Order frames, the Lux Feature is an exceptional upgrade that notably enhances the versatility and aesthetic charm of any Nest Function frame. This comprehensive upgrade can be harnessed to its full potential on Made to Order frames, transforming a basic bed frame into a versatile piece of furniture that marries enhanced comfort with refined style.

The Lux Feature is composed of two parts: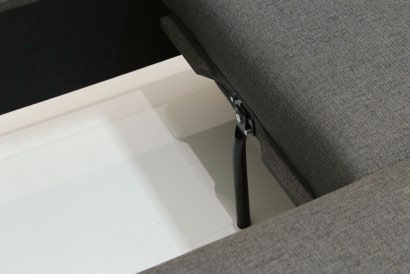 Part 1. Lux Leg
This is an innovative addition that brings an extra level of functionality and comfort to the Nest Function frame. The Lux Leg is an additional support leg strategically placed beneath the shoulder location (back of the middle mattress section) of the sofa bed. This strategic positioning enables the user to lounge or sit up when the sleeper is in the bed position. Essentially, it allows the bed to be used as a chaise lounge, providing a perfect spot for reading, relaxing, or enjoying a quiet cup of coffee. In the absence of the Lux Leg, the Nest Function would primarily serve as a bed.

Part 2. Fully Upholstered
This part of the Lux Feature adds an extra layer of elegance and cohesiveness to the frame. With a fully upholstered mattress that matches the main upholstery on the frame, the Lux Feature ensures that your furniture not only provides superior comfort but also maintains a consistent and stylish look that complements your interior decor.

Compatibility and Application
The beauty of the Lux Feature lies in its broad compatibility. It can be incorporated with all Nest Function frames, seamlessly enhancing their function and form. The Made to Order frames, in particular, provide the best platform for fully utilizing the Lux Feature. Both the Lux Leg and Fully Upholstered components can be configured with these frames, making them highly customizable to match individual preferences and needs.
In conclusion, the Lux Feature is a transformative upgrade that redefines the potential of Nest Function frames. By providing enhanced support with the Lux Leg and a consistent, stylish aesthetic with Fully Upholstered mattresses, it elevates the furniture experience, offering superior comfort, functionality, and style. The Lux Feature offers an opportunity to personalize your furniture and maximize its utility.