Love Your Space
Your home should be a place you are inspired, and a place where comfort provides you with rest and relaxation. No matter if you're an aspiring Joanna Gaines or the complete opposite when just a thought about design brings on stress and anxiety. Your home is your space. Within your home you deserve an environment that offers peace, relaxation, promotes wellbeing and inspires you.
Although magazine-worthy interior designs are stunning, let's be real, as enticing as they appear room designs that look stunning often fail to be practical or comfortable for everyday living. Creating a space you love is simpler than it sounds, look for simple designs that are of lasting quality, practical and timeless. 
Choosing Designs That Last
When choosing furniture for your space, it is essential to consider the quality of the product. After all, you want to love being in your space; the furniture you enjoy should be dependable and constant, not creating added stressors. Shopping for furniture can be stressful, why do it more often than you need to?

Look for furniture of lasting quality, frame materials such as hardwood plywood, and solid wood components are signs of a sturdy foundation. Seek out foam that is long lasting and safe. CertiPUR foam is a certification that ensures a product free from dangerous chemicals and creates close to no off-gassing. Upholstery covering is equally as important, as your body makes direct contact with each seat. Look for certifications like Oeko-Tex or REACH, which ensure materials are free from harmful or irritating dyes and additives. 
Your furniture should promote your wellbeing, therefore quality is important.
Buy Neutral, Decorate Often
Once you find the furniture that meets your needs and ticks off all your quality needs, the choice of upholstery color is the next big step. Consider choosing neutral. Natural colors and grayscale tones provide increased flexibility to decorate as necessary. Keep in mind, with furniture built to last, it will transcend fads, styles and trends. Dark green and goldenrod may be the trending color for home decor at this time, but when the color of the time changes to hot pink or royal blue, you'll want to keep your space relevant.
Neutral color tones make for an easy way to seamlessly pair with almost any decor flourish. Plus, decor items like pillows, throw blankets, table decor and rugs are relatively inexpensive. With a neutral sofa, you free up your time to decorate as needed and as often as you wish.

Furniture Care Tips
The construction of quality furniture is a necessary basis, but furniture care is equally as important to ensure a long life of the design. Don't overthink it, furniture care is simple and requires little time to keep it well maintained and looking good.
Seat Cushion Care
Remember to sit on every seat cushion. For foam to wear evenly, it requires you to sit on every seat about the same amount. If you only sit next to an arm, you'll likely find the middle will feel new, and the cushions at the arms will feel more soft. This is a natural factor of the foam use. By sitting on every seat, your sofa will wear in evenly offering a better seat experience. Our foam is closed cell cold cured foam, offering increased longevity, however even sitting remains an essential care habit to practice to ensure a lasting seat quality.
Fluffing Back Cushions
Fiber filled cushions require fluffing/massaging to maintain shape and comfort. Do this gently, but firmly. The goal of this care is to re-distribute any compressed fiber fill throughout the cushion to regain the intended shape of the cushion. This kind of fluffing should be done at least weekly.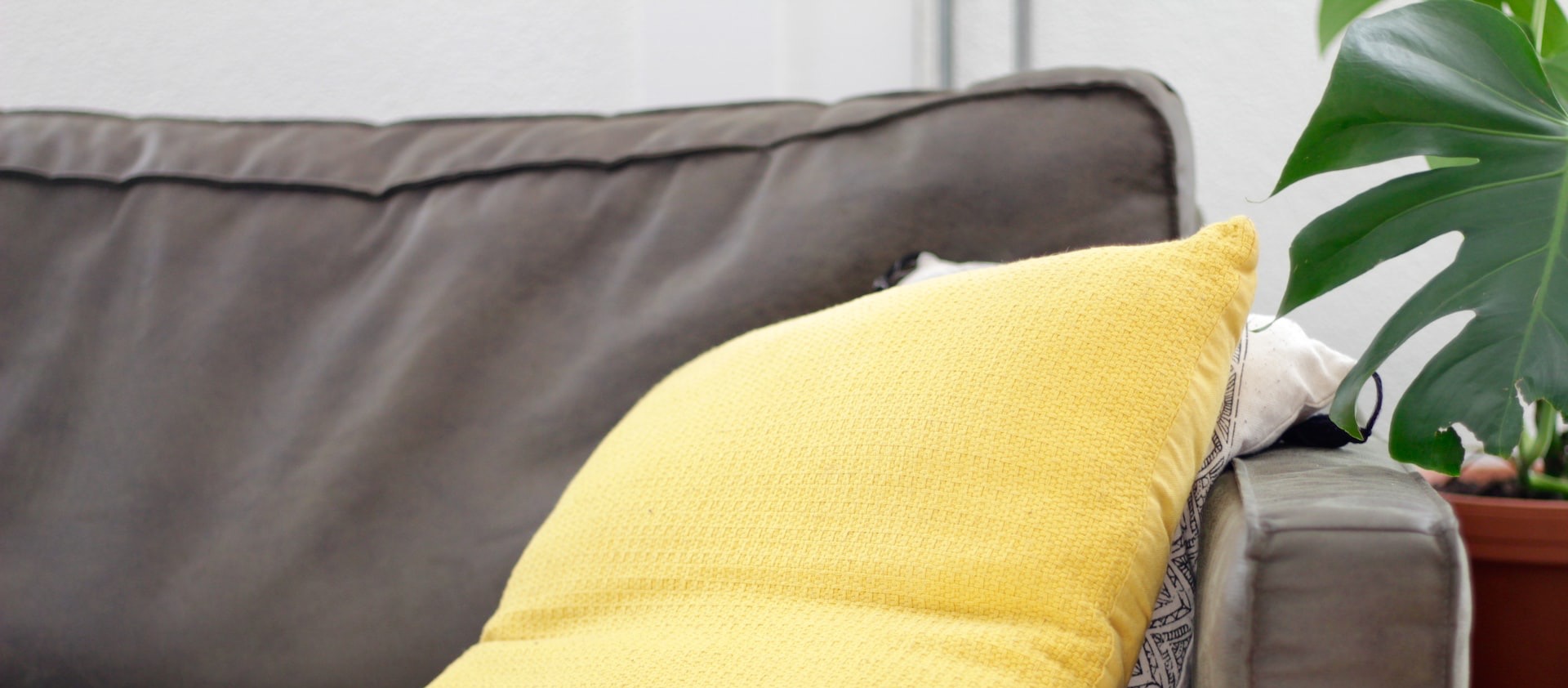 All of the back cushions on Luonto furniture is chambered and fiber filling is distributed by weight to achieve the designed seating comfort in the lumbar and upper back areas. Chamber filling helps reduce the work required to re-distribute filling throughout the cushion, however the fluffing of the cushions remains an effective care habit to practice to ensure lasting cushion quality and comfort. See our video for how to fluff a back cushion.
Cleaning the Upholstery
Upholstery is the surface that is first affected when accidents happen, and what displays the evidence of use. Upholstery cleaning can be simple, but can be tedious also. Since every upholstery can require specific cleaning procedures, consult with the manufacturer of your furniture to be certain your cleaning method is best for your material.
For our furniture, we use largely polyester fiber blends, we recommend to clean your upholstery like you would your hair. Choose a non-fragrant dye-free soap/shampoo and use room temperature water to thin it down. Always clean from seam to seam, this prevents water-ringing or spotting to occur. This works for most of our upholsteries, but our performance fabric AquaClean requires only water. 
Yearly Maintenance
Once per year it is important to do a thorough check on all the components of your furniture. Checking wear, confirming bolts are snug, and verifying that any motion mechanism is moving freely and well lubricated will help ensure the furniture is going to last as long it can.
It's Your Choice
Your home should be a place you are inspired, a place where comfort provides you with rest and relaxation. Only you have the power to ensure you create an environment that best fits your needs, making smart choices with your furniture selection helps promote a long lasting space for you.